Things to do and places to see
We are 25 mins away from the airport and Bergerac centre. A trip to the most beautiful town of Sarlat will take you just under an hour along the Route de Frois Gras. On the way you will see beautiful towns like Baynac, Take the well worn track to the top of the town to see the view and experience the Castle. In fact several villages around us are classed amongst the most beautiful villages in France, such as Belves, Monpazier, Limeuil, or even Cadouin which boast an Abby listed as a UNESCO heritage site.
Gîtes, sunbathing, swimming, relaxing... I'm bored now. Where can I go? What's here to see?
You could quite easily spend the holiday sampling the local cuisine following the duck and the wine route or the colourful markets. There is plenty to choose from but if you are like us, having itchy feet on what was supposed to be a lazy holiday, then I have a great news - we are in the perfect spot to see and experience this beautiful region.
Let's see the spectacular grottoes, visit a châteaux this area is famous for having the most Chateaux's in France, living history theme park, what about a gothic cathedral or those 17th century gardens near Limoeul.
See the Dordogne from the river while kayaking, canoeing, gorge walking or on the boat trip. What about a view from the hot air balloon or if you are not a big fun of the heights, from the horseback.
For those more active take the rucksack, pack your lunch and discover the picturesque villages on foot or on the bike. Climb the rocks or take part in high ropes course at the stunning Chateau du Val with a zip wire over the lake.
And in the evening if you still have some energy left you must go dancing at the local music festival in the village down the road.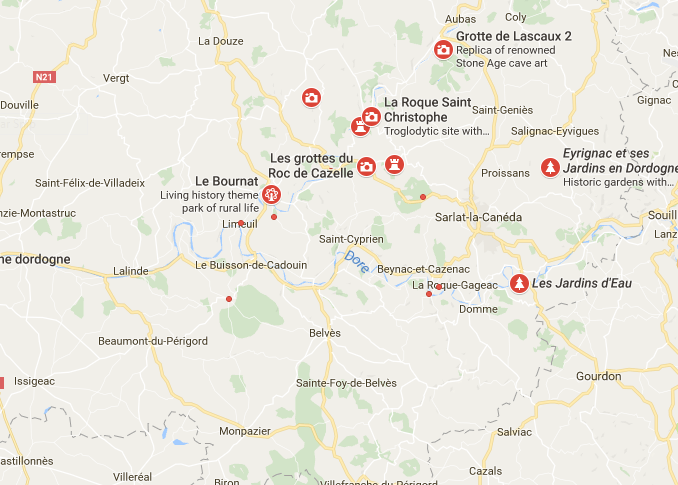 We are here
Useful Links
Sports
Horse-back riding
Hiking - ask us we have maps or can take you on a guided walk with Bum Bum!!
Cycling- we have four brand new bicycles you can hire to ride along the Dordogne or explore the nearby forests.
Events in Lalinde